FOOTBALLCO'S NXGN NAMED AS WOLVES ACADEMY PRINCIPAL PARTNER
NXGN to become the Wolves Academy Principal Partner
'NXGN' by Wolves Records' artist Reepa soundtracks the official announcement
Footballco to become media partner for Wolves' growth in North America
Footballco's youth football brand, NXGN has been named as the principal partner of Wolves Academy in a deal which will see NXGN branding appearing across the shirts of six of Wolves' academy teams as well as both parties creating content around the club's young players.
The NXGN brand was created by Footballco's global football media brand, GOAL, in 2016 as an award celebrating the best young players in world football.
In 2021 Footballco launched NXGN as a standalone social-first media brand covering the next generation of youth culture and the new young talent influencing football.
The partnership will see NXGN appearing on the front of the shirts for Wolves' under-12s, through to under-18s academy teams as well as brand placements around the Wolves Academy.
Footballco will also be working with Wolves to create content featuring their academy players which will include appearing in existing Footballco video formats, as well as new formats created specifically for NXGN and the partnership.
These formats will expand beyond the pitch to incorporate other youth-focused initiatives from Wolves, including their esports teams and music label, Wolves Records.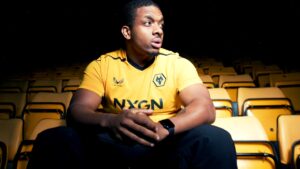 Collaborations between NXGN and Wolves Records have already started, with Wolves Records' artist Reepa recording a track for the partnership which soundtracks the official announcement video.
'NXGN' by Reepa and produced by Tarju Le'Sano, details a young player's ambitions to make it in professional football, from avoiding distractions and excelling at training to breaking into the first team. The track will be available on streaming platforms in November and the video stars Wolves Academy striker, Tyler Roberts.
Andy Jackson, head of partnerships for Footballco said: "Wolves' pioneering work in music, gaming and fashion, as well as the excellent work by their academy, aligns perfectly with NXGN's ambition to not only showcase the best young players but also cover youth football culture beyond the pitch, in formats and on channels that resonate with Gen-Z and Gen-A fans.
"We're looking forward to working with Wolves and showing our audience what life is like at a Premier League academy."
Since their promotion to the Premier League in 2018, Wolves have worked hard on diversifying their brand, with fashion ranges launched in China and South Korea, esports teams competing and winning titles under the Wolves Esports name in Europe, USA and China, and a first-of-its-kind music label, Wolves Records, launched in 2021.
Russell Jones, general manager for marketing and commercial growth at Wolves, said: "I'm delighted to welcome Footballco to the Wolves family.
"Footballco fully shares our vision of integrating football, fashion, music and gaming and is the world's largest football publisher, reaching over 600 million people per month. I'm sure many of our fans will already be familiar with their popular football brands like GOAL, Mundial, INDIVISA and NXGN. 

"Aside from growing the story of the Wolves Academy, this partnership will help Wolves and our partners increase our global reach. I'd like to thank Andy and the team for their work so far and look forward to an exciting year ahead." 
Outside the UK, Footballco, NXGN and GOAL (Footballco's global football media brand), will be the key partner for Wolves' Golden Chance project.
The Golden Chance project will see Wolves Academy coaches visit three US cities during the 2022/23 season to give talented young players the opportunity to try out for the Golden Chance, with the best players travelling to Wolverhampton for an extended trial. The initiative will be promoted through GOAL and NXGN channels, with both brands supporting a docuseries which will air after the project's completion.
In addition, Footballco and Wolves will collaborate on further content initiatives targeting the US audience throughout the rest of the season.