When the major prizes are handed out at the end of the European soccer season, fans' eyes tend to turn to three core competitions: domestic leagues, the Champions League and the Europa League. But what about domestic Cups? Does the FA Cup retain its old magic? Are fans still interested in upsets? And can other major Cup competitions across Europe compete with the English tournament's prestige?
To get a handle on the popularity of Cups in the modern football landscape, sports data experts DataPOWA have looked at the number of global internet searches over the last 12 months (April '21 – April '22) for the five biggest Cup competitions in Europe:
The FA Cup
The Copa del Rey
The Coppa Italia
The Coupe de France
DFB Pokal
Here's what we found out…
THE FA CUP IS UNRIVALED IN POPULARITY
Let's deal with the main question right away: what's Europe's most popular Cup competition? It's no surprise that the FA Cup takes top spot here, but what might be a shock is the tournament's margin of victory.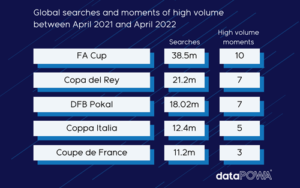 Over the last 12 months, the FA Cup has attracted nearly double the number of global searches as its nearest competitor, the Copa del Rey. This, despite the presence of only two of the traditional top teams in last year's semi-finals (Chelsea and Manchester City) and early exits for Manchester United, Arsenal and Tottenham this season.
Germany's DFB Pokal is a surprise success, surpassing even a Milan derby in the Coppa Italia and the power of Paris Saint Germain in the Coupe de France.
The Coupe de France struggles again when considering 'high volume moments', here defined as moments where searches have surpassed one million in a single week. The FA Cup is, again, out ahead.
COUPE DE FRANCE AND COPPA ITALIA RELIANT ON STAR POWER
Across our time span, searches for the Coupe de France surpassed the one million threshold in a single week just three times, and only once for events on the pitch.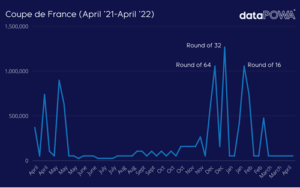 The first moment (1.05m searches) came in mid-December during the round of 64, when Paris FC's tie with Lyon had to be canceled due to in-stadium violence.
The round of 32 drew the biggest peak (1.2m), and that's likely down to Lionel Messi, who missed PSG's 4-0 win over Vannes OC after testing positive for COVID. PSG were also to talk of the round of 16 as they lost on penalties to Nice; a moment that drew 1.05m global searches.
Even the tournament's latter stages (both this season and last) couldn't rival these moments, despite the possibility of semi-final shocks from the fourth tier: Rumilly Vallières last season and Versailles this year.
It's clear that the Coupe de France requires the star power of its most high-profile club to generate searches, and the same is true of the Coppa Italia, though Italy has a wider range of high-power clubs to rely on and has enjoyed a greater volume of searches and high volume moments.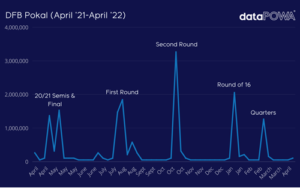 Each spike can be attributed to one of the big teams, with the most significant (1.1m and 1.6m across a two-week period) coming in mid-January when the likes of Juventus, Atalanta, AC and Inter joined the competition, and Napoli lost 5-2 to Fiorentina.
Another Fiorentina goal-fest (their 3-2 win at Atalanta) and wins for Juve and both Milans drove another significant surge (2.1m) for the quarter-finals at the start of February, and a Milan derby in the semi-final first legs drove a 1.3m peak at the end of February.
The Coppa Italia's problem may be that it's so truncated. While Premier League clubs have to navigate five rounds to qualify for the final, the biggest Serie A teams need to get through just three (four games in total, taking the two-legged semis into account). Fewer big club games mean less traction.
SHOCKS AND CONTROVERSIES DRIVE DFB POKAL SEARCHES
Twelve incident-packed months have seen the DFB Pokal draw in significant search numbers and perform better than many may have thought.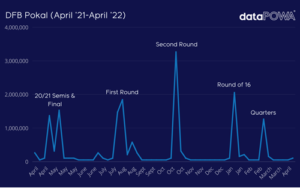 An unusual first round marked by controversy (Wolfsburg's disqualification after using six substitutes against Preussen Munster) attracted 1.4m and 1.8m searches the week before and week after the games.
A smaller spike (579,000) came a few weeks later when Bayern Munich concluded the round by hitting 12 past fifth-tier Bremer. By way of comparison, PSG's 2-0 win over Monaco in the 2020/21 Coupe de France final attracted only a slightly bigger spike: 632,000.
Shocks drove searches in the second round and round of 16 as first Bayern lost 5-0 at Mönchengladbach (3.2m), and then Bundesliga 2 cult heroes St Pauli beat high-fliers Dortmund. 2.05m global searches were made for the latter, more than for this season's quarter-finals (1.2m), last year's semi-finals (1.3m) and last year's final (1.5m).
The DFB Pokal generates plenty of interest then, but it's likely the long stretches between rounds loses the tournament some of its momentum.
COPA DEL REY THRIVES AFTER REVAMP
Approaching its 100th anniversary, the Copa del Rey has been revamped in recent years, expanding to include more teams, scrapping two-leg ties (except for the semis) and introducing all but four La Liga sides at the first round. The positive impact can be seen in search volume.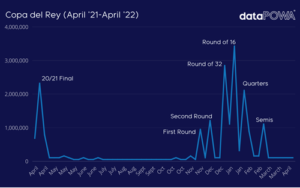 With higher stakes and David v Goliath ties more likely, the early stages attracted a significant wave of interest, with the first round, in early December, drawing 948,00 global searches, and the second round two weeks later generating 1.2m.
Three rounds (the round of 32, round of 16 and quarter-finals) were played in a five-week period from the start of January to the start of February and drew more than a million searches a week in four of those five weeks. This equated to more than 9.8m searches in total – just around a million shy of the Coupe de France's 12-month total.
The round of 16 week in mid-January performed best (3.4m) as Athletic Bilbao knocked out Barcelona and Real Madrid needed extra time to see off Elche. Only the FA Cup's third and fourth rounds commanded higher single-week totals.
With this year's semi-final first leg (1.1m) and last year's final (2.3m) attracting high search volume as well, the Copa del Rey achieves what the Coupe de France and Coppa Italia fail to: consistent high volume across the entire tournament.
The FA Cup reigns supreme
There's no denying which tournament comes out on top though: regardless of results, stage or the teams involved, the FA Cup is the undoubted King of the Cups, regularly pulling in huge search numbers throughout its duration.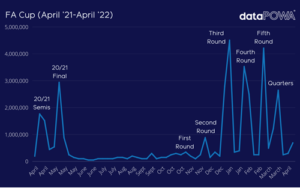 Last year's semi-finals attracted 1.7m and 1.5m searches across a two-week period, while the final between Leicester and Chelsea drew 2.9m searches in the week of the final and a further 881,000 the week after it.
The third and fourth rounds are even bigger draws, attracting 2.7m and 4.5m (third round) and 3.5m and 2.4m (fourth round) across two-week periods.
As the competition progresses and some of the biggest teams are knocked out, search volume wanes, with the fifth round drawing 4.2m searches and the quarter-finals 2.6m.
However, the tournament doesn't rely on these big teams as even the very early stages command hundreds of thousands of searches. One match – Stockport's dramatic 5-3 victory over Bolton in their televised first round replay – drew nearly 200,000 searches on its own.
It's clear that Cups still have a major role to play in the European soccer landscape, but different tournaments are reliant on different factors: surprising results, high stakes intensity, major teams and big-name players.
The FA Cup is by far and away the most successful because it blends all of these things, along with a heritage that few of the other tournaments can compete with.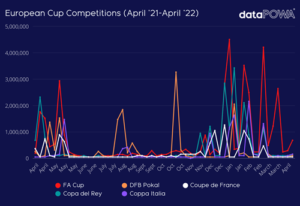 Discover more about DataPOWA and find out how we can help you maximise your data and sponsorship opportunities by visiting our website or getting in touch at hello@datapowa.co.uk.