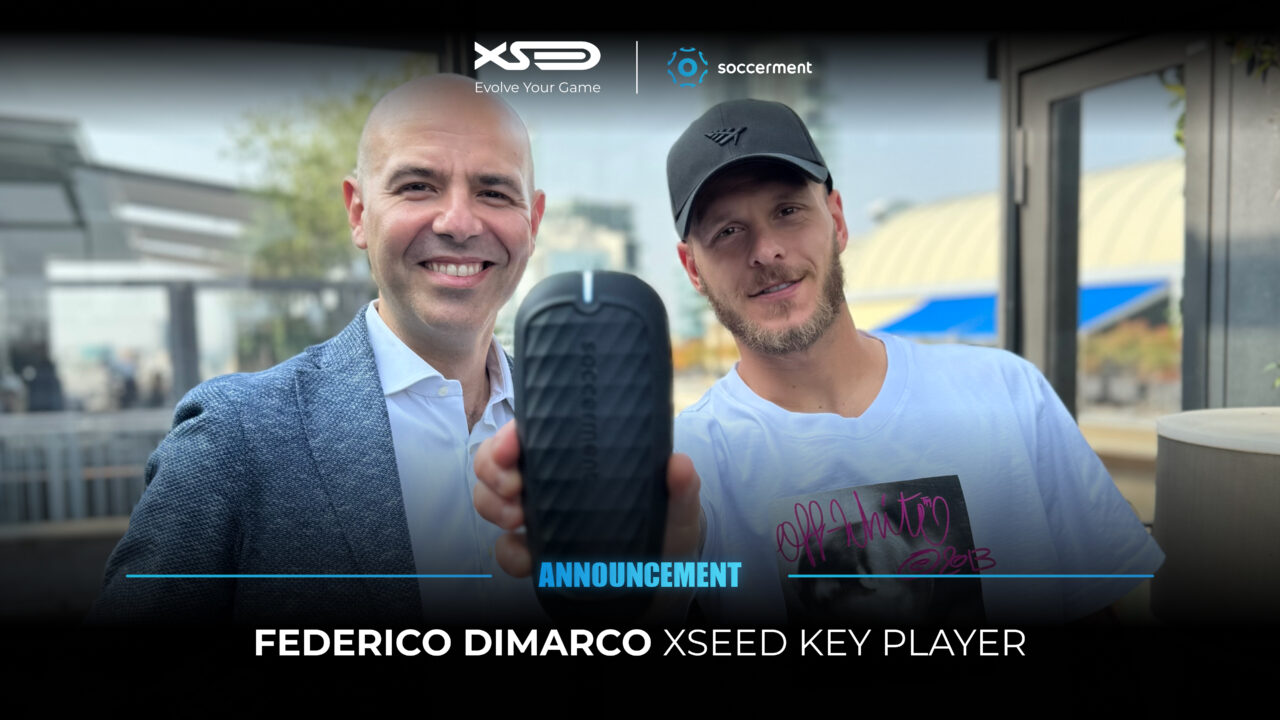 Soccerment, a Soccer Artificial Intelligence company who has been chosen as the Official Data Partner of Soccerex, is thrilled to announce a strategic three-year partnership with Federico Dimarco, a world-class player from FC Internazionale Milano and the Italian National Team, embarking on a journey destined to transform the future of soccer with data-driven insights and AI technology
Bridging Elite and Grassroots Soccer through Technological Innovation
Soccerment, known for its smart wearable technology, XSEED, and the analytics platform, xvalue.ai, is at the forefront of merging technology and vital soccer data. The partnership with Federico Dimarco heralds a new era where technology and player skills unite to serve both elite and emerging talents.
Federico Dimarco becomes Soccerment's XSEED Key Player, embodying their values of hard work, self-improvement, and teamwork. The partnership focuses on democratizing technological access and using AI and data across all levels of the sport.
Interactive Development and Knowledge Enhancement
Dimarco will use Soccerment's XSEED AI-integrated shin guards for advanced data and feedback. This partnership aims to elevate performance standards by integrating elite soccer skills with technology.
The alliance also deepens fan engagement through XSEED, providing insight into Dimarco's performance, strategies, and game-day skills.
Insights from the Main Actors
Aldo Comi, CEO of Soccerment, expresses: "Embarking on this journey with Federico Dimarco, a player whose career personifies relentless dedication and progression, mirrors Soccerment's commitment to perpetual innovation and evolution within the soccer industry. This partnership is not merely a collaboration but a fusion of elite skill and technology, destined to elevate the sport into a new era of data-driven excellence."
Federico Dimarco shares: "Aligning with Soccerment presents a unique avenue to further refine my game and connect with fans in an unprecedented manner. Their commitment to data and technological enhancement within soccer echoes my journey of continual improvement and I am thrilled to explore the limitless possibilities this partnership beholds."
Spokesperson from Roc Nation: "Our collaboration with Soccerment and Federico Dimarco transcends conventional partnerships, intending to weave a tight-knit connection between an inspirational athlete and his global fanbase. Through this alliance, we aspire to elevate Federico's brand, not only as an elite soccer player but also as a symbol of innovation and motivation. Leveraging Soccerment's XSEED technology, we're on a quest to deepen the interaction and engagement between fans and player, amplifying experiences that inspire and unite the soccer community across borders."
Extending Horizons with Roc Nation
This partnership is further enriched by Roc Nation, founded by JAY-Z, aiming to amplify the global footprint of Federico Dimarco and Soccerment. The collaboration promises to redefine the boundaries of soccer by intertwining technology, player performance, and fan engagement.
In Conclusion
Soccerment's three-year alliance with Federico Dimarco is dedicated to making advanced AI and data technologies accessible to the soccer community. The collective goal is to reshape soccer by uniting technology and athletic prowess.
Discover more about XSEED at https://it.shop.soccerment.com/  and for additional information about Soccerment, visit https://soccerment.com/blog-newsroom/.