The global sports industry is said to be worth $623b by 2027 (PwC). Contributions of revenue continue to be from the broad segments of broadcasting, commercial, match day and betting activities. The introduction of OTT and BigTech streaming is supplementing some growth in revenue for the industry, with industry annual growth rates now averaging between 5% to 6.5% across the portfolio.   
Confidence is rising post COVID and there is a greater focus for higher returns in the women's sports category. There are also speculative forays into web3 via NFTs, where the fan adoption rate seems quite shallow. Despite this, Deloitte research says that 89% of sports teams have made digital fan engagement their top priority, as it has been estimated that revenue can increase by 30% in doing so.
Mimo's research also captures a pattern of investment focus by the clubs, depicted in the figure below.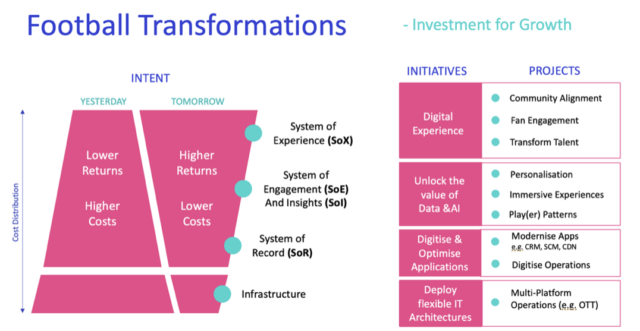 In a digital age, sports clubs and players leverage social media as the primary tool to engage a global audience. However, value through the social channels is one-dimensional. Fans are restricted in the capacity of their engagement to viewing, liking and sharing content. They are engaged as a passive audience behind a screen and not as a fan by definition.  This is all whilst fans continue to pay more and more to follow their stars and clubs.
Therefore, is the sports industry missing a real opportunity for 'new, new' revenue growth and convert a social media following into an engaged fan base? A new generation of revenue growth where the fan AND the club are better aligned and both make money?
Mimo is unlocking a mechanism that encourages stronger fan-fan, club-fan, fan-club and fan-player engagement, without the hassle of requiring hefty investments into web3 technologies. How? By enabling clubs, players, fans and the community to connect and share value beyond the current one-directional engagement through social media.
Together with rising trends which signal an increasing crossover between the sports and entertainment industries (examples including Ryan Reynolds with Wrexham FC and Taylor Swift with Travis Kelce), Mimo is excited to demonstrate its marketplace beyond just the sports industry. Mimo provides a platform to amplify a following beyond an immediate fanbase when digitally engaging with fans across social media, thereby creating a new generation of 'new, new' revenue.
INTERESTED IN MIMO?
Parties can register their interest to join the launch on

www.mimo.trade

Partners interested to learn more about the commercial models can contact Mimo by emailing

info@mimo.trade