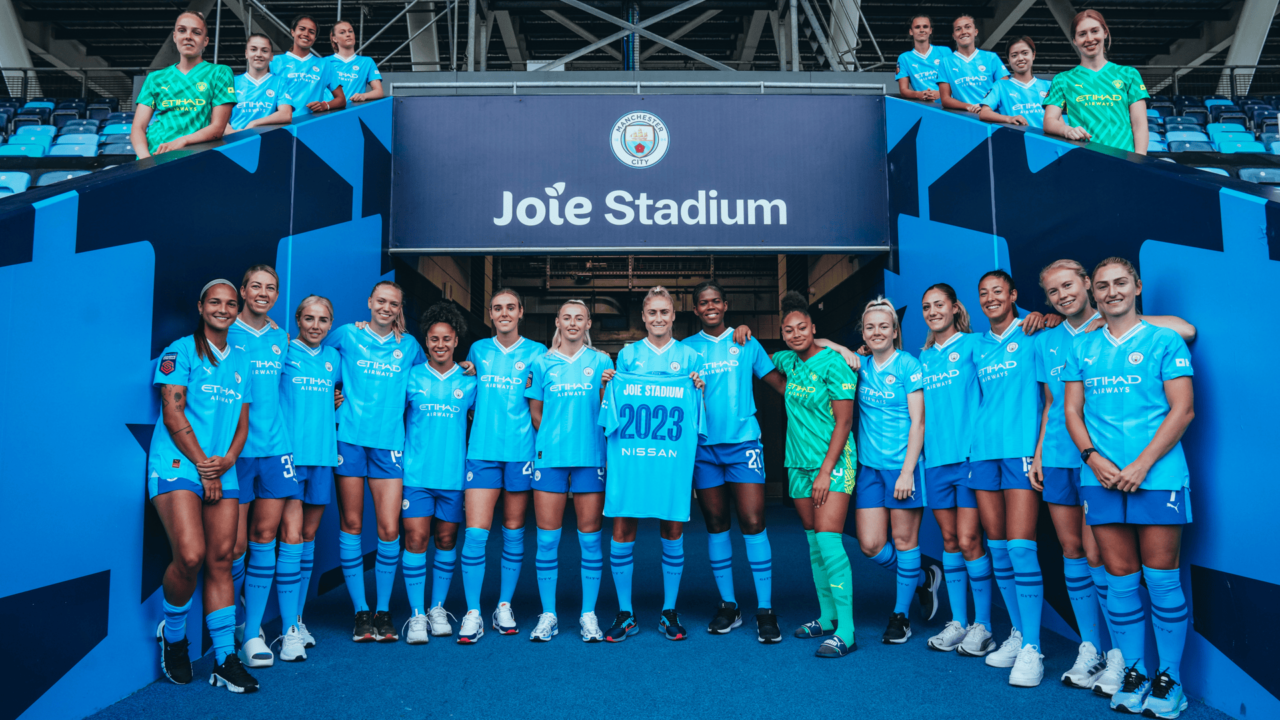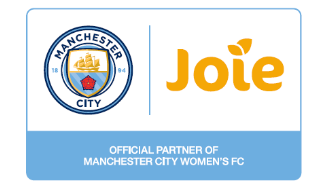 Manchester City has today announced that baby gear brand, Joie will become the Official Stadium Naming Partner of the Academy Stadium
The Joie Stadium is the only purpose-built stadium in the Women's Super League and the first to have a naming partner
The new multi-year agreement is an extension of Joie's current partnership with Manchester City Women that began in March with the brand named as the Club's Official Family Partner
Manchester City has today announced baby gear brand, Joie as the Official Stadium Naming Partner of the Academy Stadium, making it the first club in the Women's Super League to secure a commercial agreement for its stadium naming rights.
The whole Manchester City Women's team, including captain Steph Houghton, Chloe Kelly and Demi Stokes, marked this huge milestone as they cut a giant orange Joie bow that wrapped the newly-named stadium. Gavin Makel, Managing Director of Manchester City Women, and David Welsh, Senior Managing Director of Joie, were also in attendance.
This marks the next phase of the multi-year partnership between, Joie and Manchester City as, together, they pledge to introduce and improve family friendly services at the stadium building on City's commitment to delivering the best possible matchday experience for fans of all ages across all stadium facilities.
Opened in 2014 as part of the Club's continued investment into East Manchester and the Etihad Campus, the 7,000 capacity stadium is the only purpose-built stadium in the Women's Super League and is the home of Manchester City Women. In addition, many of City's Elite Development Squad and youth team matches also take place in the stadium.
Gavin Makel, Managing Director, Manchester City Women, said: "Today is a really significant moment for Manchester City, as we welcome Joie as Official Stadium Naming Partner. Not only is this a huge moment for Manchester City Women but also for the wider club as the stadium changes name for the first time since its opening in 2014.
A Women's team partner since March this year, Joie shares our commitment to family values and high standards and we're delighted the brand has chosen to extend its current relationship.
It is a further reflection of the importance, growth and commercial appeal of Manchester City Women and the wider women's game and we are excited to work together with Joie to maximise opportunities for families at our matches.
David Welsh, Senior Managing Director, Joie, said: "Joie is a family-first brand committed to making childhood and family days out as joyful as possible.
We believe that football offers an unforgettable experience for families and by partnering with Manchester City Women and becoming the Official Stadium Naming Partner, we aim to make it truly accessible for all – whether that's families with babies or parents of older children who will love playing in the Fan Zone.
We're incredibly proud of the steps we are making to help provide an all-inclusive experience and are committed to further developing our offer and ensuring that the Joie Stadium is one of the most family-friendly in the Women's Super League.
Further internal and external branding featuring the Joie logo will appear across stadium assets, with Joie continuing to activate at every Women's team fixture, offering exclusive prizes and experiences, and creating bespoke content with the Manchester City Women's first team.
About Manchester City Football Club:
Manchester City FC was initially founded in 1880 as St Mark's West Gorton and officially became Manchester City FC in 1894. Situated on the wider Etihad Campus, the Club's footprint includes the 53,500 capacity Etihad Stadium, the 7,000 capacity Joie Stadium and City Football Academy, a state- of-the-art performance, training and youth development facility home to the Club's men's, women's and academy teams.
Ranked as the Most Valuable Football Club Brand in the world by Brand Finance, Manchester City FC is currently developing a best-in-class fan experience and year-round entertainment and leisure destination at the Etihad Campus. The Club is committed to operating in a sustainable and socially responsible manner and ensures that equality and diversity is embedded into its decision-making processes, culture and practices.
For more information, please visit www.mancity.com/
About Joie
Joie is a global baby gear brand founded in 2011 and its products are designed with families at its heart. All Joie products are rigorously tested to the highest European standards.
Joie works hard to educate consumers about the importance of car seat safety and the benefits of using rear facing car seats and the European i-Size standard.
Joie cares deeply about the wellbeing of children – but it's more than that – we treasure the importance of families and work hard to champion their values, their welfare and their futures. This means that profits take the backseat, and instead Joie's focus centres not only on our customers' families, but on our employees' families, our community's families, and the earth that we all enjoy.
Joie is the United Nations Global Partner for Road Safety through their UNITAR program (United Nations Institute of Training and Research.)
Joie products are designed to grow up with users from birth onwards and are feature rich with every necessity and special upgrades
Each product features superior quality aluminum and steel; high-grade, pure and undiluted metals; top-of-the-line plastics; and tough durable strength fabrics
Every piece of every product goes through extreme testing at each stage of the development and manufacturing process
During development, stroller and buggy canopies, reclines, brakes, fold mechanism and push bar adjustments are tested over 3,000 times.
In 2011 Joie set up its Energy Management Task Force to proactively achieve environmentally sustainable goals and make improvements to the energy saving management system
For more details visit the website: www.uk.joiebaby.com
Customer Enquiries: 0800 952 0061
Customer Services Email: customerservices.uk@joiebaby.com
Facebook: www.facebook.com/JoieBaby
Twitter: www.twitter.com/Joie_Baby