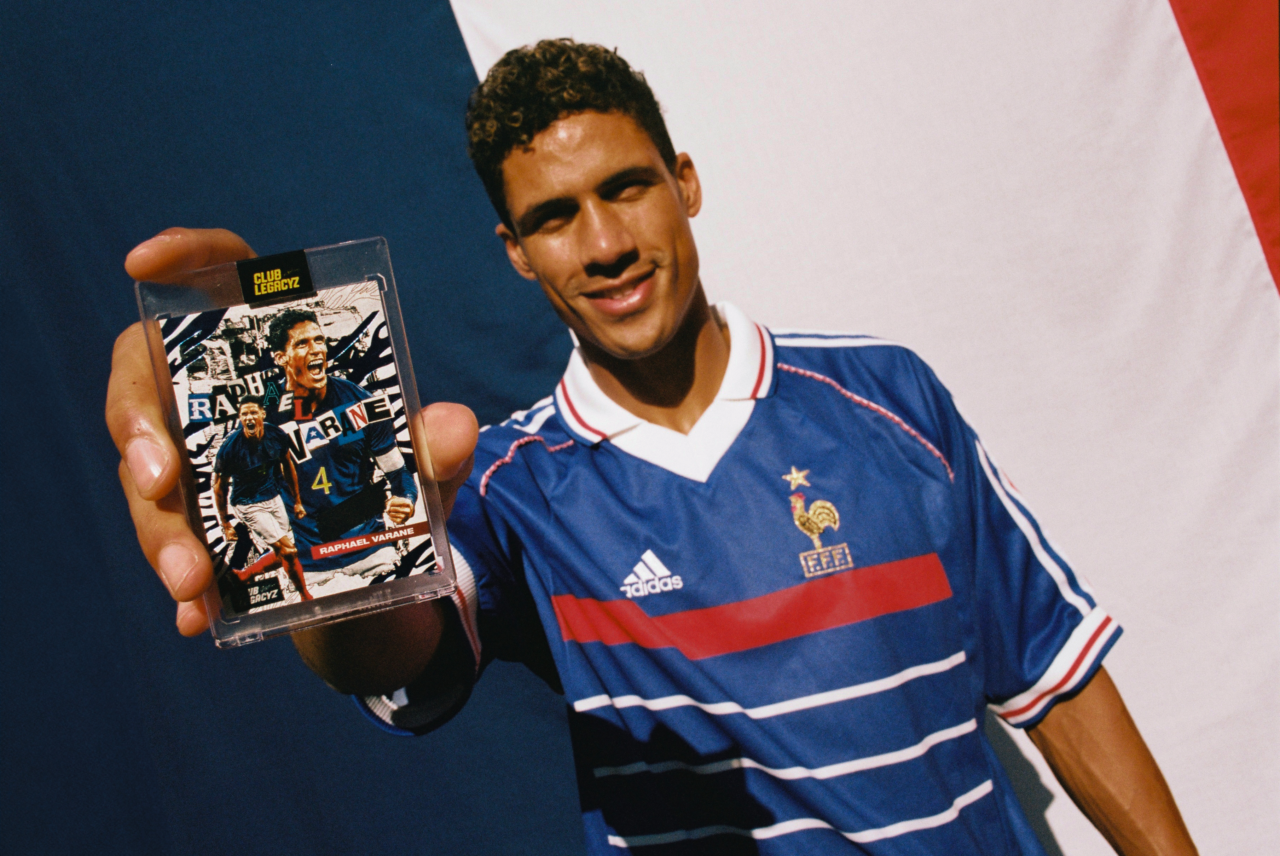 Thursday 12th October, 2023 – Today, Club Legacyz announces its partnership with Manchester United and former France defender, Raphaël Varane, as the brand releases a limited drop of products to celebrate the player's illustrious career with the French national side.
The product range includes a limited run of 500 fine art prints, as well as three versions of the Club Legacyz icons: Gold Edition, Holographic Edition and Blue Edition. On the partnership, Varane said: "It's incredibly exciting for me to be able to partner with Club Legacyz, a brand that shares a lot of the same values as me. I had the most incredible 10 years playing for France, and to be able to now have a range of products that commemorates those happy memories is very special for me. The artwork is amazing and really takes me back to all the good times I had as a France player – none more so than winning the World Cup."
To celebrate the launch, Varane took part in a photoshoot with his son, Ruben, to highlight the notion of heritage and transmission, following his retirement from international duty earlier this year. Profits from the collection will be donated to Varane's charity: Stages Varane. The charity was created in early 2019 and stems from Raphaël's will to get youngsters involved in sport. It is the opportunity for Varane to communicate values of work, respect, humility and ambition – the very values that helped him become a world champion.
In addition to Varane, a number of Europe's top football clubs joined Club Legacyz this year, the world's newest memorabilia and collectibles brand. Manchester City FC, Barcelona FC, Paris Saint Germain FC and FC Bayern Munich have all joined Club Legacyz as the brand looks to disrupt the highly lucrative memorabilia and collectibles market. More announcements around partnerships with top European clubs are also set to be made in the coming weeks.
The memorabilia and collectibles market is set to sore over the coming years, with the estimated market value expected to hit $227.2 billion by 2032. Club Legacyz founder Balthazar Théobald-Brosseau commented "Following the announcement of our club partnerships when we launched as a brand, we're delighted to now expand our partnerships to one of the greatest defenders France has ever seen. With Raphaël we are celebrating someone with a legacy in the truest sense of the word. While his journey with the French national side may be over, I am sure we'll continue to see him write history at club level."
Behind the launch of Club Legacyz are leading figures from the world of sport who have backed the brand and see a significant opportunity in the market for disruption. Former Serena Williams tennis coach Patrick Mouratoglou is one of the prestigious names to be involved with Club Legacyz.
The posters and icons have been designed with a unique identity for each club featuring leading players from each club including Erling Haaland from Manchester City, Kylian Mbappe for PSG, Jamal Musiala for Bayern Munich and Pedri for Barcelona.
The Varane range is on sale from today for a limited period. To purchase a poster or icon visit: www.clublegacyz.com.