As data becomes ever more important to business growth, LaLiga's efforts in this field are returning benefits for clubs, broadcasters, sponsors and, importantly, for fans of Spanish football.
Within its digital strategy department, LaLiga constructs data-driven strategies that boost fan engagement and fan loyalty, making the most of the rich data provided by fans around the world who interact with LaLiga's digital platforms.
Speaking at the Nextv Sport Europe conference, LaLiga head of consumer strategy Olivia Archanco said: "We work on data-driven strategies that make the complex matter of big data simple. We analyse data in a structured way that helps us generate user information that can be used to build awareness, engagement and conversion, while at the same time earning greater loyalty of fans."
Building customer loyalty
LaLiga splits the users who interact with its digital platforms (such as LaLiga's official website, its apps or its OTT service LaLigaSportsTV) into three categories. These are guests, who navigate without signing up; prospects, who provide some demographic information; and registered users.
These registered users, whether by filling out an online form or by using an existing social media profile to sign in, share information that enriches LaLiga's data ecosystem and helps to define the league's consumer strategy.

"With all this information from the different platforms that we manage, we are getting a very detailed picture of the fan," Archanco said. "We know if they are following a club, if they are season ticket holders, if they play our Fantasy game or if they are watching other sports on the OTT."
This approach makes the LaLiga digital experience more efficient for fans around the world, as these data-driven strategies make it more likely that user will see content or information that interests them.
Archanco continued: "The information is used for personalisation purposes. We engage better with consumers when we know their age, the city where they live or the interests they have. We can direct fans towards conversion and, through those, can provide better services that are much more targeted and personalised. We do this in a natural way, not aggressively and not spamming people."
Benefits for commercial partners
In addition to fans, this approach brings significant benefits for clubs, sponsors and broadcasters. "The more we know about our users, the better we can strategise and activate with wider stakeholders," Archanco said.
"For sponsors, they are traditionally looking to generate more awareness and they ask for exposure, but this is changing," she added. "In this sense, we feel we are able to provide an added value as we can not only generate awareness but also engagement. We can generate leads and clicks and, on top of that, we are also helping them to generate conversation."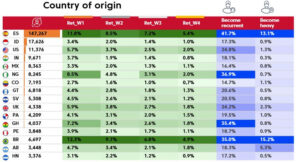 A recent example showed just how effective this can be. Assisted by LaLiga's business intelligence and analytics team, one of the league's sponsors ran a new campaign based on user data from sources such as Facebook, generating thousands of customer orders. Not only was the campaign a huge success; it represented a 90 percent saving for the partner compared to the cost of previous campaigns.
The insights generated by LaLiga represent an asset that can benefit partners around the world. LaLiga's Global Network delegates, who give the league physical presence in over 80 countries, are collaborating with the business intelligence and analytics team and providing additional local insights that complement the data.
Ultimately, this information can help sponsors or broadcasters to better target their local offerings and guide their own content output. "Through personalisation, we are able to provide different content for different countries or segments," Archanco explained.
Support for clubs to become data-driven
LaLiga is also supporting clubs as they embrace data, helping those that might not have the resources to efficiently harvest and analyse data themselves.
"We have learned how to play the music and now we want to share it with the clubs as well," Archanco explained. "They can just jump in and they don't have to invest and reinvent the wheel. We help them to go very fast."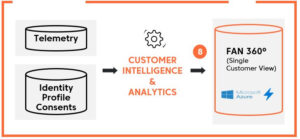 "Instead of investing years and years in building all this infrastructure and investing a lot of money on it, what we offer clubs is almost a plug-and-play functionality," she continued."
More than this, LaLiga offers consultancy services to the clubs and can help them to run campaigns and create acquisition strategies. With one recent social media campaign, for example, a LaLiga SmartBank club was able to gain more than 1,000 registered users in one day by running a competition. LaLiga has also made an agency available to the clubs that is specalised in developing narratives and on improving storytelling.
The ultimate objective is to help clubs with their development and to make the competition more competitive.
"We are working to help the digitalisation process so that we can reduce the gap between the big clubs and the rest," Archanco said. "We think that this is going to affect the competition because we're helping clubs to be more innovative and to build a better narrative with their consumers and fans. They will gain more support, more income and get closer to the bigger teams. I think this is something that will benefit the whole of LaLiga. It's good for everyone to be on a more equal footing."